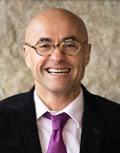 Óscar F. Gonçalves
Professor of Clinical Neuroscience, University of Minho, Senior Research Associate Neuromodulation Center, Spaulding Hospital, Harvard Medical School
ESTADOS UNIDOS DE AMÉRICA, EE.UU.
Professor Óscar Gonçalves graduated in Psychology from the Faculty of Psychology and Educational Sciences - University of Porto in Portugal, completed a doctoral degree from the Counseling, School and Consulting Psychology Program, School of Education - University of Massachusetts, Amherst - USA, a PhD equivalence in Counseling and Psychotherapy from the Faculty of Psychology - University of Lisbon - Portugal, a DEA from the Doctoral program in Neurosciences from the Faculty of Sciences - University of Vigo - Spain, a Doctorate in Neurosciences from the Faculty of Medicine - University of Santiago de Compostela - Spain, and an Habilitation in Psychology from the School of Psychology- University of Minho. Professor Gonçalves is a licensed Clinical and Health Psychologists ("Ordem dos Psicólogos" – Portuguese Psychological Association) and board certified therapist and supervisor in cognitive-Behavioral therapy (Portuguese Association of Behavior Therapy). He has published 16 books, 36 book chapters and more than 160 papers. His current research is focused on the interaction between neurocognitive markers and brain structure and functioning in psychiatry, developmental and neurodegenerative disorders. He is the founder and Director of the Neuropsychophysiology Lab where he is systematically investigating several clinical conditions in order to unravel the neural correlates of a diversity of cognitive-emotional processes. He has hold faculty and leadership positions at the University of Porto (Assistant Professor), University of California Santa Barbara (Visiting Assistant Professor), University of Minho (Assistant, Associate, Full Professor and Dean, School of Psychology) and Northeastern University (Full Professor and Chair of Applied Psychology). Currently he is Full Professor of Psychology at the University of Minho, Senior Research Associate at the Spaulding Center for Neuromodulation at the Spaulding Hospital and Harvard Medical School, Adjunct Professor at Northeastern University and Special Visiting Researcher at the Social and Cognitive Neurosciences Lab, Mackenzie University, São Paulo, Brazil. Dr. Gonçalves was a PI in 10 external funded projects and a team member in 16. He has completed the supervision of 26 PhD students and 9 postdocs.

CONFERENCE ABSTRACT

Neurosciences of OCD (NoOCD): A Brain based clinical intervention
There is an increased evidence of widespread structural and functional brain alterations in OCD patients that go beyond the classical model of abnormalities in cortico-striatal-thalamo-cortical loop. These alterations may help with the understanding of the pathophysiology associated with a variety of symptoms and endophenotypes in OCD. Building on current findings and the speaker's research program, this presentation will show evidence of functional and structural alterations in OCD that may contribute to th OCD behavioral, cognitive and affective phenotype. Clinical implications will be drawn from current neuroscience research with OCD patients.